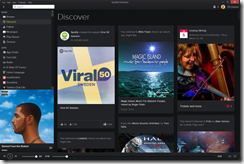 Spotify  has been testing a new theme to its interface, a few days ago I had the opportunity download it and test it out, pretty much it is just that "a theme" nothing else, no major changes have been made to the interface, except for a few changes here and there, basically  I noticed how  they have tweaked things a little bit to make it look more modern, I noticed bigger artwork on the search results and artist pages and perhaps a cleaner look overall as it tends to show less information than it did before, it also blends better with Windows 8 modern GUI, so that's a plus for me and I'm sure many other people will be pleased with this fact.
What's most remarkable on the new version is the new dark theme and boy it is dark! so dark that it looks plain black in some places, along with the dark look there are bigger fonts too, the fonts are white throughout most of the GUI while showing a little tone of gray in other areas such as the main sidebar , this against the almost black background might not be of the liking of a few people, some will find it slightly hurting to the eyes.
Aside from the changes I refer to above there's not much else besides perhaps a more social look, which I like, but I would prefer if the contrasts weren't so pronounced in some places, maybe wider use of tones of gray in specific areas, then also why not give us the choice to pick which colors we want or an assortment of colors to pick from? I don't think it would be so hard to implement.
I got my hands on this test version 0.9.8.150 which still feels a little buggy and not as snappy as the regular official builds we are all used to, but this is of course to be expected as it is a test/beta version, it seems Spotify will soon be releasing this for everyone, though I'm sure a newer build vastly improved from this, as a matter of fact the rumor is that the company pulled this build and is no longer offering it to selected people as it has been for the past few weeks.
If you are interested in trying this build out, just reply here with your e-mail and I'll send you a link to download the file.
Cheers!